[coupon name="wprobot" id="3″]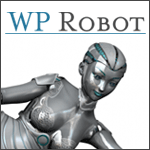 Another great autoblog wordpress plugin is WP Robot.  WP Robot is a powerful and easy to use autoblogging plugin for WordPress weblogs allowing you to turn your blog on complete auto-pilot and drip-feed it with fresh content in regular intervals you specify. And the best part: The posts created will be targeted to any keyword you enter and any topic you could ever think of!
There are many possible ways to use WP Robot, let us outline a few below:
Create an armada of automatic weblogs. Since you don't have to create the posts yourself nothing prevents your from creating a massive network of so-called autoblogs in order to earn advertising money from them or promote your existing websites.
Earn more money from your existing weblogs. Several of the modules available for WP Robot allow you to earn affiliate commission for any sale referred by your blog's posts through the eBay, Amazon and Clickbank affiliate programs. Since all posts created by WP Robot are targeted to your weblog's topic conversions are generally very good and so this is an easy way to improve the revenue of your weblogs without any work!
Add targeted and helpful content to your already established websites. Let's say you are running a website about golf. By using WP Robot you could add a weblog to your existing site filled with relevant questions and answers on how to play golf or videos teaching golf or reviews of the newest golf equipment and so on. The possibilities are endless and as I said – no work involved on your part.
WP Robot can autopost:
– Amazon products
– eBay auctions
– Clickbank ads
– Youtube videos
– Yahoo Answers Q&A's
– Articlebase articles
– Flickr images
– Yahoo News
– RSS feeds
– Commission Junction products
– PRWeb Press Releases
– Oodle Classifieds
– Shopzilla Comparisons
– Twitter tweets